Lineup Announcement: Victoria Schwab
---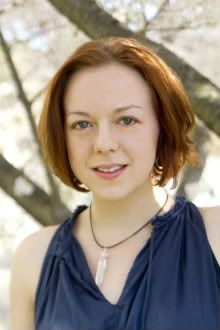 I am the product of a British mother, a Beverly Hills father, and a southern upbringing. Because of this, I have been known to say "tom-ah-toes", "like", and "y'all". But since this is about what I write and not how I pronounce my a's, I will say that I tell stories.
I love fairy tales, and folklore, and books that make me wonder if the world is really as it seems. I love writing about doors, and places between, and the cracks where reality slips into something darker, stranger, and invariably more interesting.
I grew up on the west coast, but went to high school in the south, an all girls' prep school complete with plaid skirts I used to doodle on during math.
I went to Washington University in St. Louis, where I changed course SIX times (and would have done it a seventh time, but my family and advisors said you couldn't switch majors in your last semester). I went from Physics, to Film, to Set Design, to Art History, to English, to Communication Design.
Job-wise, I have been a clerk in a department store, where I met a very nice Erotica writer while re-hanging bras. I have been an assistant caterer and a personal chef. Because of this, I bake some mean chocolate chip cookies, can plate hors d'oeuvres, and know how to make twirling napkin towers. I was a dog daycare attendant for a few summers, and have the scars to prove it. In college, I worked in a bookstore, where I never made ANY money because I spent every check feeding my book-buying habit.
And now, I am an author. That's still really fun to say, and I feel like I need to fact-check myself just to make sure it's true.
I am represented by the fiercely awesome Holly Root at Waxman Literary. 
Victoria's debut novel, The Near Witch, is published by Disney*Hyperion and is in stores now.